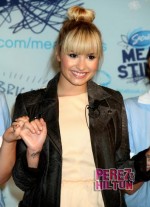 Demi Lovato is the new ambassador for Secret's "Mean Stinks" campaign. The name fits, seeing as Secret is one of the top brands of deoderant.
Lovato delighted students at New York City's Young Women's Leadership School when she visited to talk with them about Mean Stinks. She asked the girls to pledge to have a "Drama Free School Year", and signify this promise with blue nail polish on their pinky fingers. This symbolic pinky swear, or the Pinky Promise, will presumably be a good conversation starter. When people ask why just someone's pinky finger is painted blue, they can explain that it is their promise not to bully others.
The singer has had her own personal experiences being a target of bullying, which she has shared and discussed with her fans and the general public. These experiences unfortunately lasted all throughout her childhood and lead her to eventually develop an eating disorder and begin cutting herself. She has shared her stories of bullying, cutting, Bulimia and body image on shows such as Ellen and ABC'S 2020. In the near future, we will be watching her interview with Katie Couric on her upcoming show, Katie, where she will be discussing similar topics.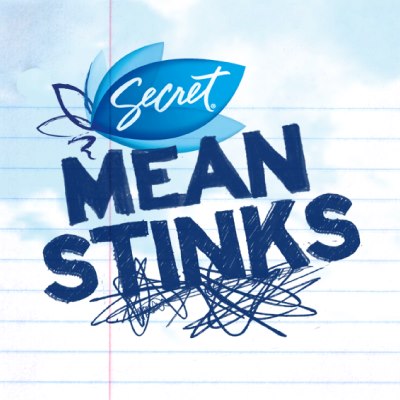 Secret is donating $1.00 (up to $150,000) from the purchase of every Mean Stinks Clinical Strength deodorant to the cause. Sounds to us like a pretty good reason to head to the store few some new deoderant. And some blue nail polish!
To learn more, visit and Like the Mean Stinks Facebook page at: http://www.facebook.com/meanstinks